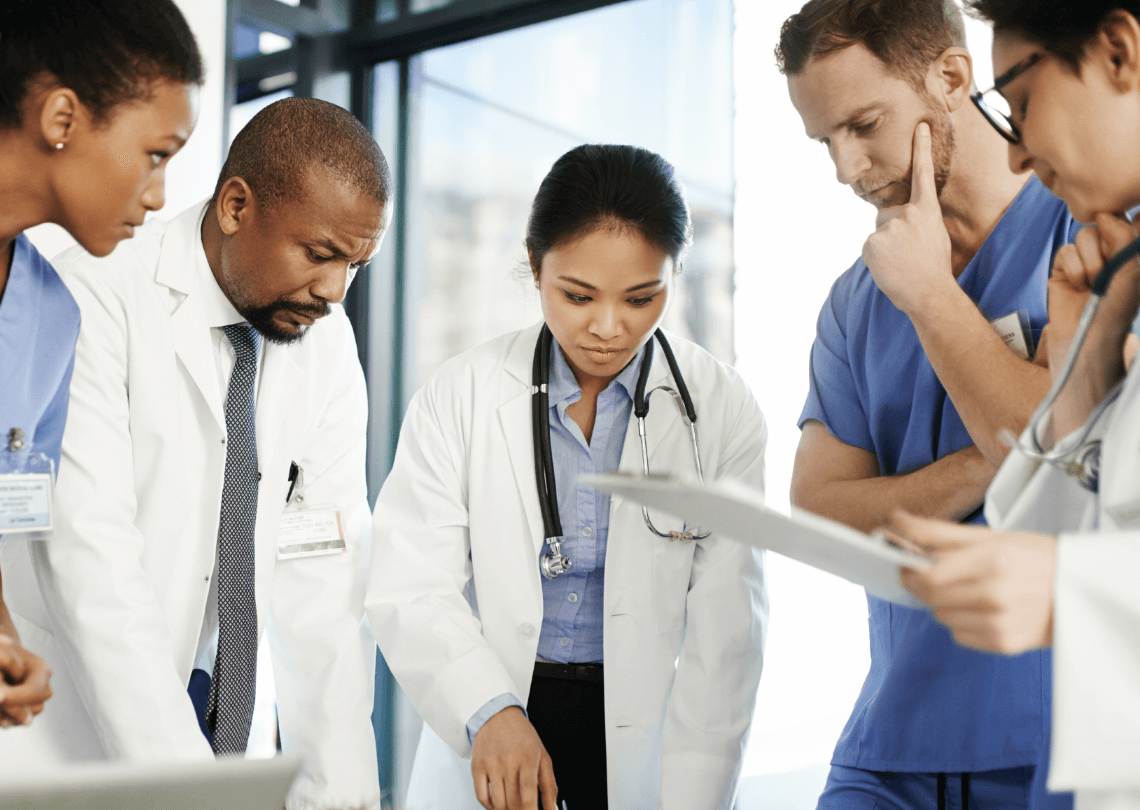 Who is the CPSC?
Built upon the foundation of more than 20 years of collaboration between the Association of American Medical Colleges (AAMC) and Vizient, the Clinical Practice Solutions Center (CPSC) has evolved from its initial focus on academic medical centers and their provider practices. As the market transformed, partnerships between community and academic organizations became more common. Patients sought quality care in their own communities, driving the need for smarter analytics, advisory services and a comprehensive data solution.
Helping You Build a Patient-Focused, Data-Driven Organization
Today, as the patient population once again shifts (this time toward ambulatory), the CPSC stands ready to help academic and community practice organizations like yours meet critical gaps in data management — a necessity for today's dynamic health care environment. We're pleased to serve medical practices of all sizes — academic, hospital-affiliated or independent — together with one powerful solution.
90+ participating organizations

Over 140,000 providers

137 specialties benchmarked

More than 5,000 users nationwide

Over 1.2 million reports run annually
The CPSC is much more than a database. It's a full-service solution that fosters continuous collaboration, and drives innovation in strategy design, operational efficiency and revenue enhancement.
At the helm of our operation is the CPSC Advisory Board, serving as the voice of our members while driving improvements and value through the tools we offer. Group members include administrators and practice organization executives who collaboratively provide CPSC staff with feedback and input, helping to ensure that the CPSC solution continues to meet the needs of our members well into the future.
For more information about the CPSC, email CPSCsupport@vizientinc.com
Clinical Practice Solutions Center Fact Sheet
About Vizient, Inc.
Vizient, Inc., the largest member-driven health care performance improvement company in the country, provides innovative data-driven solutions, expertise and collaborative opportunities that lead to improved patient outcomes and lower costs. Vizient's diverse membership base includes academic medical centers, pediatric facilities, community hospitals, integrated health delivery networks and nonacute health care providers and represents approximately $100 billion in annual purchasing volume.
The Vizient brand identity represents the integration of VHA Inc., University HealthSystem Consortium and Novation, which combined in 2015, as well as MedAssets' Spend and Clinical Resource Management (SCM) segment, including Sg2, which was acquired in 2016. In 2019, Vizient again received a World's Most Ethical Company designation from the Ethisphere Institute. Vizient's headquarters are in Irving, Texas, with locations in Chicago and other cities across the United States. Please visit www.vizientinc.com as well as our newsroom, blog, Twitter, LinkedIn and YouTube pages for more information about the company.
About the AAMC
The Association of American Medical Colleges is a not-for-profit association dedicated to transforming health care through innovative medical education, cutting-edge patient care and groundbreaking medical research. Its members are all 154 accredited U.S. and 17 accredited Canadian medical schools; nearly 400 major teaching hospitals and health systems, including 51 Department of Veterans Affairs medical centers; and more than 80 academic societies.
Through these institutions and organizations, the AAMC serves the leaders of America's medical schools and teaching hospitals and their more than 173,000 full-time faculty members, 89,000 medical students, 129,000 resident physicians, and more than 60,000 graduate students and postdoctoral researchers in the biomedical sciences.